8 Freelance Business Card Designs for the Entrepreneur in 2023
Last updated Jun 10, 2021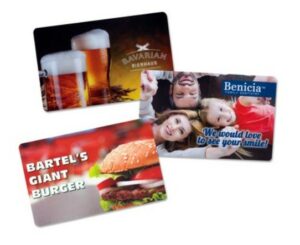 The simple design philosophy is both a mantra and a theme for freelance business card designs for the entrepreneur in 2023. An excellent tool to get your client's attention, attract their trust, and grow your business, professional business cards are designed to communicate information loud and clear.
A good business card design should be ultra-simplistic. It should tell the recipient all they need to know about your brand while being clear, honest, and concise.
Since the key is not to overload your business card with any more information than necessary, it is crucial to keep the below elements in mind when sketching your freelance business card designs when working with one of your local printing companies Maryland.
Freelance Business Card Designs for Entrepreneurs
Business cards aren't just for companies who need a quick thank you note or those who plan to attend an important event. The most creative freelance entrepreneurs know that showcasing your business card can get you more leads, leads that convert into customers, and more business. Here are eight freelance business card designs you should consider as an entrepreneur in 2023.
1. Minimalist business card designs
The simplest cards tend to attract more eyeballs. They help get the attention of your customers, give your business a voice, and even be used as a means to market yourself without the need for elaborate designs.
So, if you are not one for the show, a minimalist business card can help you showcase your branding and contact information through a simple template.
2. Modern freelance business card designs
A successful business must be able to convey its personality through its business card. You can easily partner with a business card printing services Virginia, Maryland to create a modern business card design that can be an excellent visual representation of your company's personality.
To make your card even more modern, you can consider incorporating technology into it. You can embed a QR code, which can take users to your website or portfolio and provide them with all the information they need to know about you.
3. Geometric business card designs
Businesses are embracing geometric designs because they are perceived as trustworthy and attractive. But while we see them everywhere, they should be used as a part of the overall aesthetic that you want your potential customers to associate with your brand.
Geometric patterns can provide your brand with an impactful differentiator and help you appear innovative or cutting-edge. When coupled with vibrant colors, such cards can allow you to create a more personalized feel for your company branding. If you are looking for something that isn't dull, smart geometric business card designs could be the right choice for you in 2023.
4. Transparent business card designs
Transparent business cards are an excellent choice for startups and freelancer entrepreneurs who need to establish a new presence online. It can be an honest representation of your company's operations. Transparent business cards can offer more than just a simple seal of authenticity. They can actually be used as a metaphor for your business's genuine presence in the market.
5. Die-cut business card designs
Die-cutting is an excellent way to express your personality on a business card. Unlike regular business cards, custom die-cut business cards do not have the traditional logo or image of a person or company on them. Instead, they have a special cut-out image that looks like it was made using cutting-edge technology. For this reason, they can be perfect for entrepreneurs who operate a tech-related business.
6. Boutique pattern business card designs
Designing a boutique card for your business is easy when you're aware of the different business card trends. But it still typically requires detailed customization to achieve the best results. Word patterns are an excellent way to start your boutique. Cards with large fonts, delicate detailing, or decorative accents are all great examples of boutique patterns.
7. Heavy and thick business card designs
An elevated feel and a classy appearance are amongst the most desirable aspects of a business card. Just like the size of your freelance business card, you work with a best business card printing Maryland to determine the weight of your card to tip your customers' scales towards your brand. Heavy and thick business card designs depict your company in an authoritative light, setting it apart from all other competitors.
8. Marble accents business card designs
A marble accent card can add a touch of class to any business card as it reflects the refined tastes of those who appreciate the finer things in life. If your audience base demands eye-catching and visually memorable business cards, these might be for you.